Ferrari FF Winter Driving Experience in Aspen, CO
Overview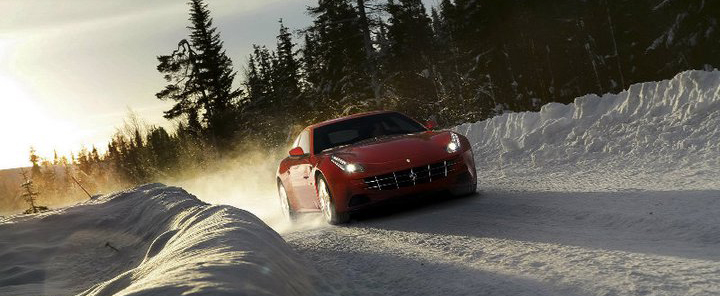 Based on the PILOTA ON ICE programs offered in Italy, the Winter Driving Experience is Ferrari's newest and most dynamic driving program. The two-day course, scheduled to launch in January 2012, was specifically developed with the FF in mind; to highlight the versatility and functionality of the all-new model. As always, the program is exclusive to Ferrari Owners.
The beauty and topography of Aspen offers the perfect backdrop for the custom-made snow and ice course that Ferrari will build to showcase the FF model's potent abilities. The new GT debuts the Ferrari-designed 4RM all-wheel drive system, which enables the FF to retain the sporty and dynamic driving characteristics typical of a Ferrari while providing the added traction necessary in low-grip situations. Owners will conduct snow and ice driving exercises using a fleet of [8] specially prepared FFs. The cabin of an FF is an ideal environment from which to appreciate the car's various attributes; the all-wheel drive system as well as its four-seat accommodations and premium luxury. The goal, as ever, is to elevate driver skill and comfort and to enhance a driver's admiration of the all-season GT.
Students and guests lodge at the Little Nell Resort, Aspen's finest boutique hotel and only minutes from the purpose-built track facility. The Aspen environment features countless family and winter activities like skiing, snowmobiling and even dog sledding.
For more information please contact Sieglinde at Cauley Ferrari 248.538.9600 or sespenshade@cauley.net.